Emmy Wanditi Njue '25 Kenya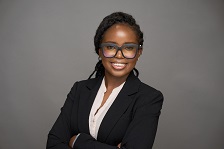 Emmy Wanditi Njue, a driven and ambitious student hailing from Nairobi, Kenya, has established herself as a standout scholar. Her educational journey has been supported by the prestigious Zawadi Africa Educational Fund Scholarship, in addition to multiple NABA scholarships.
Emmy's academic pursuits currently revolve around a double major in Finance and Business Analytics within the esteemed Martin J Whitman Business School. Her true passion lies in data analysis, enabling her to make informed financial decisions with precision and expertise.
Within the vibrant campus community, Emmy actively contributes as a valued member of the Alpha Kappa Psi Business fraternity. For two consecutive semesters, she served as the Professional Chair, showcasing her exceptional leadership abilities. Furthermore, Emmy has dedicated herself to research through her role as a Research Assistant at SOURCE (Syracuse Office of Undergraduate Research and Creative Engagement).
Emmy's commitment to academic excellence is evident through her participation in the Honors Program, where she has cultivated her intellectual growth. Recognizing the importance of fostering a diverse and inclusive community, Emmy actively engages as a Dimensions Mentor within the Multicultural Office, finding meaningful connections and contributing to a welcoming environment. Additionally, she has discovered a sense of belonging within the National Association of Black Accountants (NABA), enriching her experiences and forging valuable relationships.